Incomedia presents an all-new and entirely revamped version of their WebAnimator software. Creating professional-quality Web animations has never been easier or more fun. 
Many people believe that creating web animations is a task reserved for professional  designers who are capable of nimbly moving between coding and libraries. In reality, with  the right software, anyone can do it (and do it well) to obtain quality results. 
So, what's the right software? It's WebAnimator, now available in a new and completely revamped Version 4.  
Easy and intuitive, WebAnimator allows anyone to let their imagination run wild and create interactive presentations, banners, backgrounds, mini-games and animated text, content that's as useful for work as it is for school or leisure. 
Working with WebAnimator is extremely easy because you can do everything in a visual  way. It's a blank canvas on which you can insert the elements you need, a timeline for  managing keyframes and the many panels where numerous functions and properties are  clearly and intuitively organized. 
Turning to the specifics of the new features introduced in Version 4, there are many. We start with the completely redesigned graphical interface and arrive at the introduction  of several new elements and tools. In particular, within the powerful set of animation features now included are Sprite sheets, motion paths, easing methods, morph  animations, text animations, freehand drawing animations and much more.  
"We are very excited about this new achievement," explains Stefano Ranfagni, CTO and co founder of Incomedia. "WebAnimator works well with WebSite X5, our other flagship product, the former for animation, the latter for websites. They're two indispensable tools that have  already helped millions of people around the world build their web presence and  communication. With this new Version 4 of WebAnimator, creators will enjoy even more complete and powerful software. We're sure they'll get amazing results and have lots of fun!"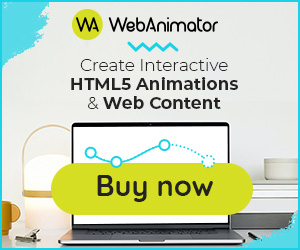 Highlights:
Speed up the creation process thanks to the rich library of preset effects and to automatic keyframe generation mode;
Free your imagination with a wide range of customizable elements: DIV, text, HTML widget, images, audio files, videos, symbols, preset, and free forms;
Enhance your animations thanks to the 3D functions as well as the shadows, filters, and clipping effects;
Enjoy the powerful animation functions: sprite sheets, motion paths, easing methods, morphing, text and freehand drawing animations and much more;
Create basic and advanced interactivity using the events – namely integrated actions, triggers and labels for the timeline;
Create more complex animations thanks to the support of external scripts such as JavaScript, CSS and HTML;
Export to HTML5 and to different video formats;
The video animations and interactive objects you create with WebAnimator can be perfectly displayed on any device, and they adapt smoothly to any browser window's size. 
WebAnimator Version 4 | System requirements
Available languages: EN, ES, FR, IT, PL, DE Windows 7, 8.1, 10, 11 (64-bit only);
2 GHz Processor or above with 64-bit support At least 4 GB RAM (8 GB recommended) Internet connection & e-mail account required to activate the product.
About Incomedia
For nearly 25 years, Incomedia (incomedia.eu), a 100% Made-in-Italy company, has been developing desktop software for PCs which allows everyone to obtain professional results quickly and easily. Founded in Ivrea in 1998 by brothers Federico and Stefano Ranfagni,  Incomedia is currently well-established in Europe and around the world. The flagship product WebSite X5® (websitex5.com), dedicated to the creation of websites and ecommerce sites, stands alongside WebAnimator (webanimator.com) for the creation of HTML5 animations.
NOTĂ: Acest blog nu conţine advertoriale, dar în unele articole sunt inserate linkuri de afiliere. Susțineți acest blog cumpărând software prin aceste linkuri. Mulțumesc!
NOTE: This blog does not contain advertisements, but affiliate links are inserted in some articles. Support this blog by purchasing software through these links. Thank you!